From Brick & Darkness by J. L. Sullivan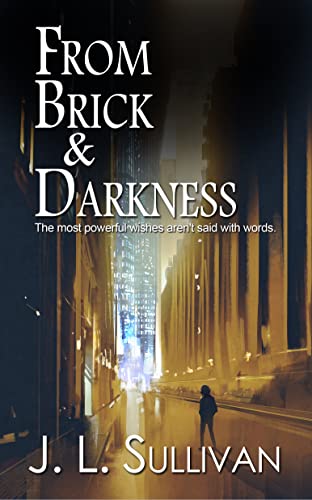 About the book
Bax always fantasized something remarkable would happen in his life. So when a decrepit man with glowing purple eyes offers him a ring intended for his estranged father, Bax accepts.

The ring speaks to Bax in a dream, tempting him with a vision of a powerful djinn. Desperate to make his fantasies a reality, Bax unleashes a creature called Ifrit, but soon learns this djinn isn't what the ring led him to believe. Feeding off the depths of his subconscious, the sinister demon fulfills what he thinks Bax wants by manipulating, threatening, and murdering. With everyone he loves in danger and a trail of crimes pointing back at him, Bax must scramble to solve the puzzle that will banish Ifrit forever.
About the author
J. L. Sullivan writes young adult stories inspired by gritty urban environments and the tales that percolate within abandoned buildings and desolate alleys. He lives in St. Louis with his wife, two daughters, and a dog named Princess Penelope Picklesworth.
Visit him at: http://www.jlsullivan.net
My thoughts
A contemporary retelling of Aladdin's lamp—with a twist.
Fifteen-year-old Baxter Allen, bullied at school, longs to meet the father he never knew. The YA novel follows Bax and his friends as they deal with the unexpected and dark consequences of summoning a powerful djinn.
J. L. Sullivan seamlessly weaves the fantastical realm of djinns with the very real—and at times harsh—world of high school. He's crafted believable characters, full of doubts and fears, at least at first. As the story progresses he shows how Bax and his friends decide loyalty is stronger than fears and bravery sometimes is the only choice you have. The result is a well-written and captivating story that's difficult to put down.