Polly's List by Kim Janine Ligon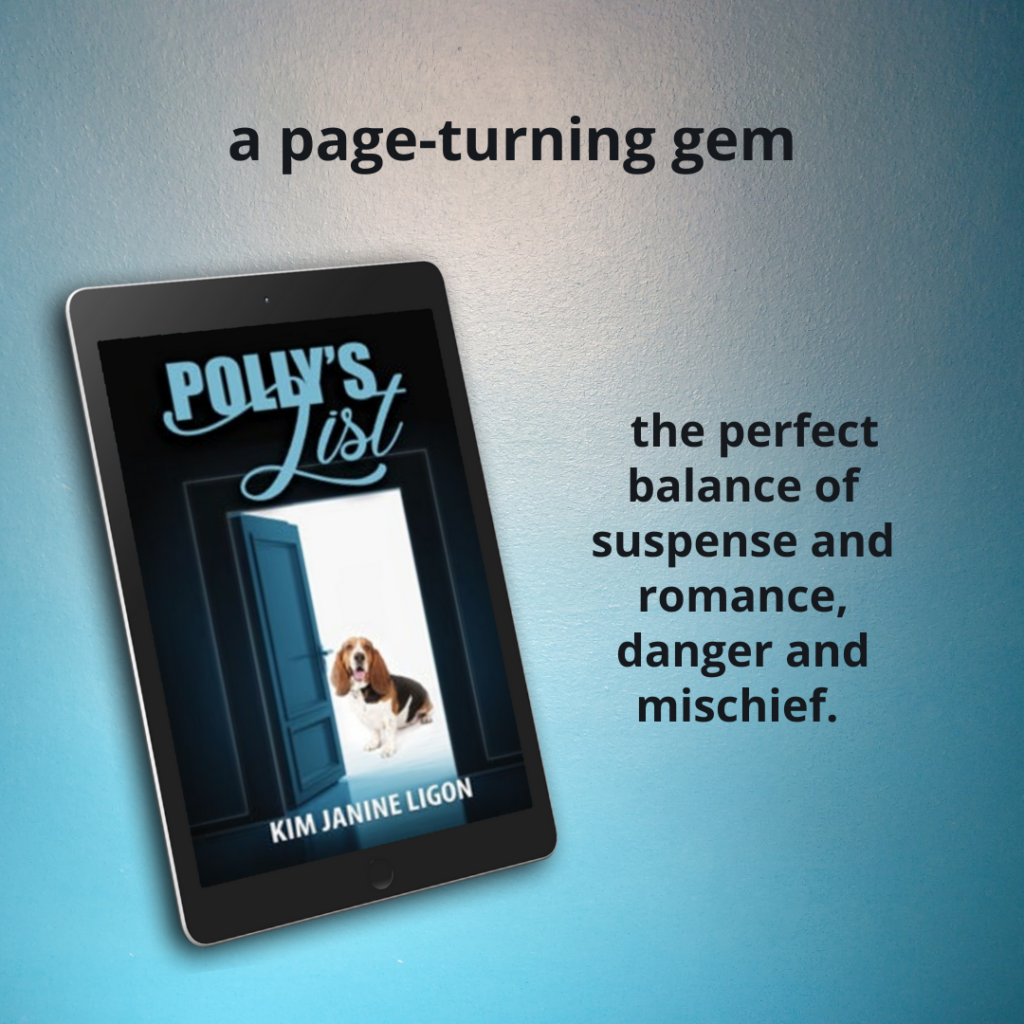 A must read!
The blurb
CJ Reynolds couldn't wait to escape his hometown. He's loving his bachelor life as a software developer in California. So much so that he hasn't been back in years to see the grandmother who raised him.
Mikal Benson believes her small town is perfect for raising her son, Will, alone. When Mikal finds her neighbor, Polly Rogers, sprawled on the floor in a pool of blood, barely clinging to life, she calls Polly's grandson – CJ Reynolds – and insists he must come home. Now!
From her coma, Polly whispers three words that change everything. Did she fall or was she pushed? CJ, Mikal, and Will form an unlikely team coming together to discover the truth as danger engulfs them and love transforms them into a family.
Kim's bio
I grew up in rural Wisconsin where my father was a veterinarian. We always had lots of pets around. And there was always a herd of children around too. Ten of us in all and I am the oldest.
I had a forty plus year career in healthcare information technology. When I retired, I finally had time to learn to spin fibers into unique, beautiful yarn that I make into gifts for friends and family. While I am spinning and weaving, I am writing in my head until the writing has to spill out onto the screen.
I have been married almost forever to my own real life romance hero!
Follow me at www.spinningrhttp://www.spinningromance.com or email me at KimJanine@spinningromance.com
My thoughts
When Mikal Benson finds her neighbor, Polly Rogers, on the floor in a pool of blood, everyone assumes her dog, Rhett, tripped her and she fell down the stairs. Mikal, a widow, with an inquisitive young son, Will, Polly's grandson in California, CJ Reynolds.
CJ is not pleased with the meddling neighbor and is guilted into returning home. His grandmother is in a coma. As he sits and talks and reads to her, he realizes how swiftly time has passed and questions how he has spent his life.
When she whispers something about a list in an all-too-brief moment of lucidness, he suspects her fall wasn't an accident. He and Mikal put their differences aside to piece together the puzzle in a race against time before anyone else is harmed. As they work together, an affection grows, in large part fueled by Will's eternal cheerfulness.
While Mikal and CJ are the main characters of Polly's List, the real stars are Will, Mikal's son, and Rhett, Polly's basset hound. Will and his love of Rhett is the catalyst in the softening the hearts of both of the adults.
Kim Janine Ligon skillfully pulls the reader into the story of Mikal and CJ, as she reveals each clue in its time, builds the suspense to a crescendo, and leaves you on the edge of your seat.
But the book is so much more than a mystery. It's a story that showcases the diverse types of love. Family love. Neighborly love. The innocent love of a child. And, of course, romantic love.
Polly's List is a page-turning gem—a delightfully entertaining novel with the perfect balance of suspense and romance, danger and mischief. A must read.